100% Placement Accomplished at IIFM, Bhopal Despite Economic Recession
Wednesday, March 18, 2009, 5:48
4,520 views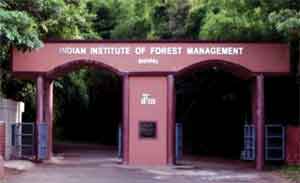 History repeated itself at the Indian Institute of Forest Management (IIFM), Bhopal with the 20th batch of the Post Graduate Diploma in Forest Management (PGDFM) making themselves and the institute proud by achieving 100 per cent placements. This is the 20th year in a line since that the premier business school has continued its unbroken trend of 100 per cent placements regardless of the increase in the strength of the students from 37 in 2008 to 61 students in 2009 and economy wide downturn.
Out of 49 companies which showed intent, 32 companies were called up for the process. The number of offers available was 105, i.e., 1.72 jobs were available per student.
The highest compensation package of Rs. 7.2 lakhs per annum was offered by Delhi-based Earthy Goods & Services Private Limited. The average salary offered this year stood at Rs. 4.60 lakhs per annum. Close to 50 companies expressed interest in recruiting from IIFM, of which 32 were invited for campus placements based on compensation and job profile offered.
Recruiters include traditional stalwarts like FINO (Financial Information Network & Operations), SKS Microfinance and IFMR (Institute for Financial Management & Research), BASIX (Bhartiya Samruddhi Investments and Consulting Services (BASIS Ltd.), BILT (Ballarpur Industries Ltd.), Jungle Lodges & Resorts and TERI (The Energy & Resources Institute) as well as new recruiters such as Earthy Goods & Services Ltd., Intellecash, AXIS Bank, Access Development Services, Aid-et-Action, ASA, BISWA (Bharat Integrated Social Welfare Agency), RIN (Rural Innovations Network), GEER (Gujarat Ecological & Environment Research) Foundation, CMF, Rajasthan, CCFID, Grameen Koota, CTRAN, FES (Foundation for Ecological Security), CGMFP.
The companies represent a diverse range of sectors – from Microfinance to Carbon Finance, Livelihoods, NGOs, Paper & Pulp, and Research Organizations. About 81 per cent of the batch was placed in the functional areas of environmental research, CDM and carbon finance, ecotourism, supply chain management, livelihoods, rural development, microfinance, banking and finance, rural marketing, sectoral consulting and would be working towards the integration of ecological, societal and economic development, thus fulfilling the mandate of the institute.
After achieving 100% placement, second card of choice has been opened for the students and we have many companies who have yet to complete the process of selection which includes CANTOR CO2e, IMRB International, ENZEN Global, BAIF, Sambodhi, ITC, ATREE, ARAVALI Foundation, WTI (Wildlife Trust of India), AMITY Education, NIF (National Innovations Foundation), CGH Earth, etc.
At a time when environmental and developmental issues like climate change, global warming, species extinction and subsequent solutions, carbon trading, CDM projects and livelihoods and financial inclusion have come to the fore front as prime areas of concern for governments, corporate houses and NGOs nationally and internationally, the institute is fulfilling the need for trained environment and development managers.
It is in fact the only institute in the country, and one of the few in Asia that is dedicated to the creation of "green managers and the agents of change". For, not only are IIFM students trained to manage the bottom line, they are adept at managing the "triple bottom line-economic, social and environmental concerns of business".
About the Author
8 Comments on "100% Placement Accomplished at IIFM, Bhopal Despite Economic Recession"
Trackbacks
Write a Comment
Gravatars are small images that can show your personality. You can get your gravatar for free today!