FINAL PLACEMENTS 2009 AT NITIE MUMBAI
Tuesday, August 25, 2009, 10:54
3,789 views
Students of NITIE, Mumbai sailed through yet another placement season successfully, setting new benchmarks along the way though NITIE which used to release its placement report by January every year ended up doing so only in August.
Final Placements 2009 saw the participation of around 80 companies, offering a plethora of roles across various domains – namely Supply Chain, Marketing, Finance, Consulting and IT/Systems. The placement process this time involved 30 first time recruiters, while opening up new roles in the field of Micro Finance, Telecom, Human Resources etc. The highest salary of Rs 15 lakhs per annum was offered by Hindustan Unilever Ltd, while a number of companies demonstrated their confidence in the talent pool by making a total of 23 pre-placement offers (PPO's).
Recruiters from consulting sector included major players like Ernst and Young, KPMG, TSMG, Cognizant Business Consulting and Global e-Procure. Students with prior industry experience were roped in by these multi-national corporations, with almost 18% of the batch choosing this sector. Cognizant was a major recruiter in this sector.
Equally encouraging was the Banking and Financial Services sector (BFSI) represented by Citibank, Standard Chartered, ICICI Bank, ICICI Prudential, Futures First, Axis Bank, FINO, etc. FINO participated in the placement process for the first time, while Futures First made a maximum of 8 offers. Around 20% of the students embraced this sector, endorsing NITIE's standing in BFSI domain.
NITIE has displayed its exuberance in the FMCG sector since its inception and the trend continued this year with 27% of the batch grabbing jobs in this sector. Some of the majors who participated in the placement exercise were Procter and Gamble, Hindustan Unilever Ltd, Asian Paints, Nestle, Cadbury, Johnson & Johnson Consumer, Reckitt Benckiser, Cargill Foods, Kellogg, HCCB, PepsiCo, Perfetti, etc. The profiles offered in the FMCG sector were those of Sales, Marketing, IT and Supply Chain. Proctor & Gamble was the major recruiter in this sector.
The  IT & Systems Sector was represented by Tata Consultancy Services, Intel, ITC Infotech, Genpact, Zensar etc. to name a few. Manufacturing companies like Mahindra and Mahindra, Larsen and Toubro, Vedanta, Anand Group, etc. made their presence felt to the students by offering roles in Operations, Logistics and Marketing.
Placement '09 saw the participation of PSU's like BHEL, ONGC and IFFCO for the first time; recruiting students for profiles ranging across Strategy, Materials and HR. Telecom majors like Airtel and TTSL also offered interesting profiles while niche sectors like Shipping and Hospitality opened up new avenues for students. A speciality of the Placements this year was the sheer diversity of industries and profiles on offer for the students.
Sector-wise Analysis of Placements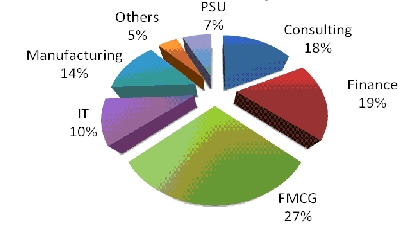 Profile-wise Analysis of Placements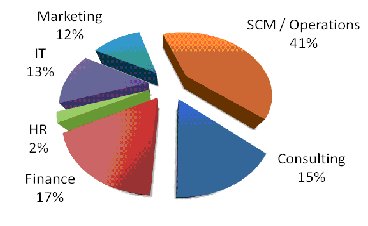 About the Author
2 Comments on "FINAL PLACEMENTS 2009 AT NITIE MUMBAI"
Write a Comment
Gravatars are small images that can show your personality. You can get your gravatar for free today!